September 25, 2010
Root beer cupcakes with gob frosting
A friend gave me a recipe for root beer cupcakes. I used IBC, and it didn't taste like root beer at all -- rather, it tasted like chocolate. She said she used a dark root beer from a local place, so next time I plan to add some extract to boost the flavor. The frosting tastes like marshmallows and fits the cupcakes. They still tasted really good and were light and fluffy.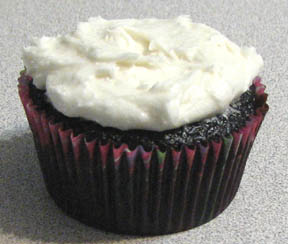 September 24, 2010
Chocolate cake and white cake
I made two cakes for the bake sale at work, chocolate with dark chocolate frosting and white with buttercream, no decorations. They sold for $20 each. Disappointing.
August 28, 2010
Lemon meringue cupcakes
The cake part of the cupcake was slightly lemony and had a great taste and texture -- sweet and fluffy. The lemon curd had a slightly strange taste to me, but Matt said he liked it a lot. The meringue was sort of in the way because it made the cupcake very tall. Here's the thing -- you have to refrigerate these. I didn't, and they went bad. I had the belly ache to prove it. So no pictures this time.
August 12, 2010
Peanut butter-filled chocolate cupcakes
I had another go at the Martha Stewart cupcakes. This was a chocolate cupcake filled with peanut butter. Once again, the filled cupcake expanded (semi-exploded) and then contracted, leaving a crater in the top. I solved this by topping it with chocolate ganache (the husband is of the opinion that all cupcakes should have frosting). The ganache overpowered the cupcakes, which were pretty tasty though a little tough. I think a chocolate buttercream would have been better. I need to figure out why my filled cupcakes explode like this. It may be that my oven gets too hot (which I think it does) or that the recipe is just screwy (which I think it is).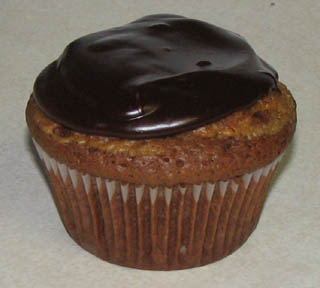 June 26, 2010
Chocolate cake with dark chocolate icing
I made this cake for my husband's aunt and uncle's 50th wedding anniversary. It was a big hit, and pieces of cake got taken away as fast as I could cut them. In case you're wondering, the roses are in picks, not in the cake itself. It's not perfect, but I always learn. I also made two test cakes to make sure the recipes would work well together. And they really do. The cake is tasty and moist, and the icing is delicious and chocolatey and not at all bitter (you should have seen the faces!). It was a lot of work and stress, but I'm so proud of myself.
I also made my first foray into candy making, just using some molds to make chocolate and vanilla roses and hearts.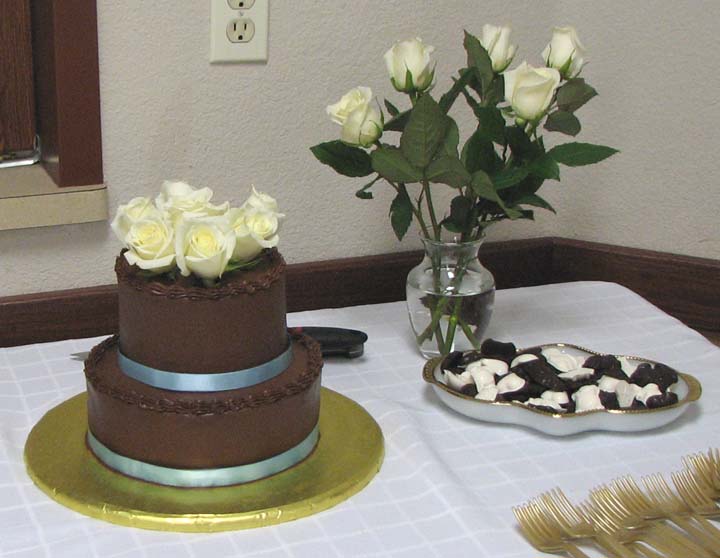 Chocolate cake
Dark chocolate icing
August 3, 2009
Peanut butter cupcakes
Matt requested these since he loves peanut butter so much. The cupcake itself is supposed to taste like peanut butter, but it didn't have a strong flavor of it. Logan ate almost a whole one, without frosting since he doesn't like creamy stuff at this point. The frosting was really good. Matt devoured these. I do have to be careful not to overcook them. That made the paper come away from the cupcake and made it too hard.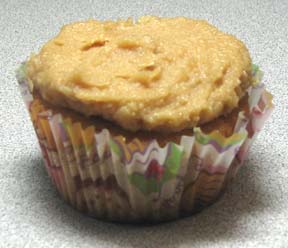 July 24, 2009
Chocolate chip cupcakes
I think these were my favorite so far. The cupcake is white with semisweet chocolate chips, and the icing is dark chocolate with nonpareils (like a Snowcap!). I made a batch of these and some cheesecake cupcakes for a birthday party (which I didn't get to go to because I had to stay home with Logan). They were a hit; I got a lot of nice comments after the fact.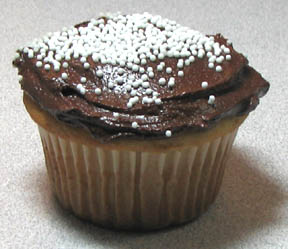 July 9, 2009
Marble cupcakes
These tasted great. It's very light, though I kept choking on the fine texture. You shouldn't breathe in your cupcakes!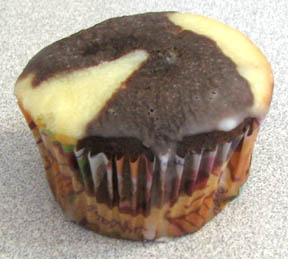 July 2, 2009
Boston cream pie cupcakes
These tasted really good. I now have a good recipe for pastry cream and chocolate ganache! The cupcakes were rather messy. I think a cake is a better choice than a cupcake for these.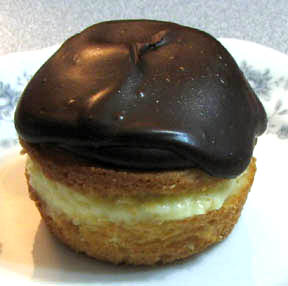 June 25, 2009
Cookies and cream cheesecake cupcakes
This one turned out pretty good! It has an Oreo cookie in the bottom and crushed Oreos inside. This is one of Matt's favorites.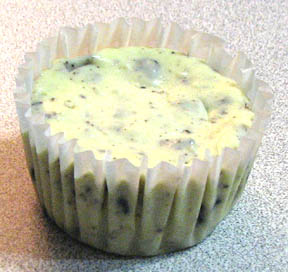 June 11, 2009
Mint-filled brownie cupcakes
This week I tried another of Martha Stewart's cupcakes. I was again underwhelmed. This one has a peppermint patty inside a hard brownie. The peppermint puffed up and split most of the cupcakes. Then it shrank as it cooled and became a hard piece of candy, rather than the soft center they show in the picture. They tasted OK, but I wasn't overly impressed. My mom's coworkers seem to like them, though. :-)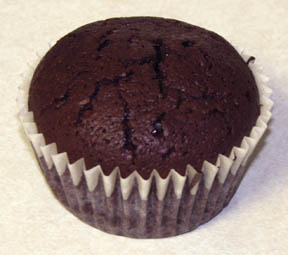 June 4, 2009
Snickerdoodle cupcakes
My mom bought Martha Stewart's cupcake book, so of course I had to try one out. I made the snickerdoodle cupcake. It's a cinnamon cake with meringue frosting and a sprinkle of cinnamon on top. So I have discovered that snickerdoodles have nothing to do with Snickers and that the cookies by the same name must be rather lackluster. These cupcakes were OK but nothing to write home about.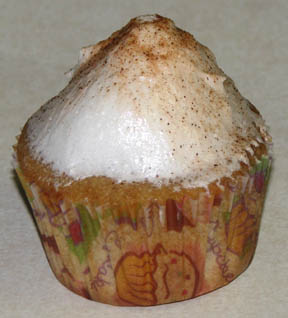 October 30, 2008
Halloween!
I made this cake for a bake sale at work. The cake is chocolate liqueur with chocolate buttercream icing. From the leftovers I sampled, it's good! The cake weighed a ton because I used a double batch of icing. The pumpkins are marzipan (which I do not like the taste of), and everything else is marshmallow fondant (with a dowel through the witch). The coloring made the fondant kind of taste bad. Now that I've found a fondant that's tasty, I don't see a way around corrupting it with nasty color. Maybe next time I'll try not putting so much color paste in. I was in a hurry. Why?
Well, I made some mini cakes and frosted them with a new recipe I found that uses chocolate fudge topping. It was so good! I tried some the next day, and it didn't taste good. I can only think that it needed to be refrigerated because of the chocolate fudge topping. So I had to throw all of the cakes away. At least I had a full cake leftover. I wound up with too much batter, so I made a cake I thought was going to be for us. I decided to work on this cake for the bake sale. Also, that day I stepped on a burr, which really hurt. I was limping around the kitchen, which in turn made my back really hurt. But I got it done. I had also made a bunch of chocolate mice (maraschino cherry covered in chocolate with a kiss head and almond ears. They came out good, but I had a lot of ear breakage. I also had to put them in baby food containers so they would be portable for the sale.
The cake sold quickly for $25. I think I could have gotten more. I talked to the fellow that bought it. He said his coworkers had had 2/3 of it. He was going to bring the other 1/3 back to his chocoholic wife. He expected her to just stick her face in it. The mice sold for $1 each, which I thought was a bit much.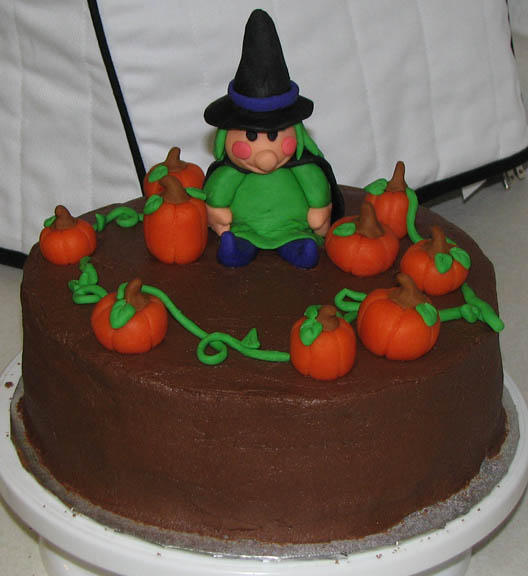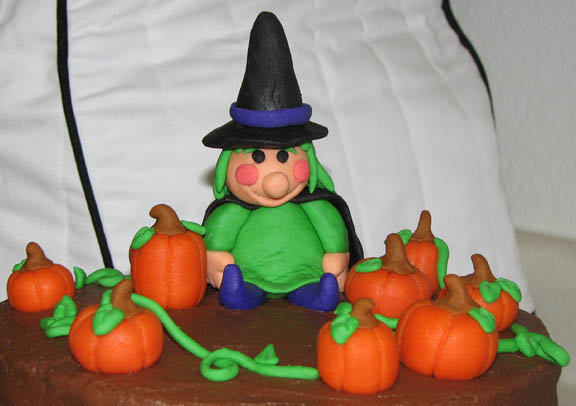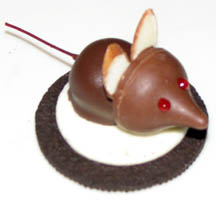 August 1, 2008
New mixer!
Mom bought me a Kitchen Aid Professional stand mixer! Woohoo! The thing is huge and very pretty. We're going to have to find counter space for it. It's too heavy to tote around much. I've been using Matt's hand mixer, and boy does that get your arm tired out (not to mention occasionally straining the mixer's motor).
July 31, 2008
Wilton Class I, third night, yellow butter cake with buttercream icing
We again had to bring a cake to class. I again used the instructor's yellow butter cake recipe (I added 1/4 cup of butter per batch to make it moister) and my standard half-butter, half-shortening icing recipe (kind of yellow but so much better tasting). I discovered something too! I had read about people complaining about the zero trans-fat shortenings. So I tried a cheapo vegetable shortening that had some bad fat. Bingo! My icing is so much creamier and tastier now. Bye-bye, Crisco! I brought this cake to work since it came out pretty good. We kept one cake at home, and it's almost gone.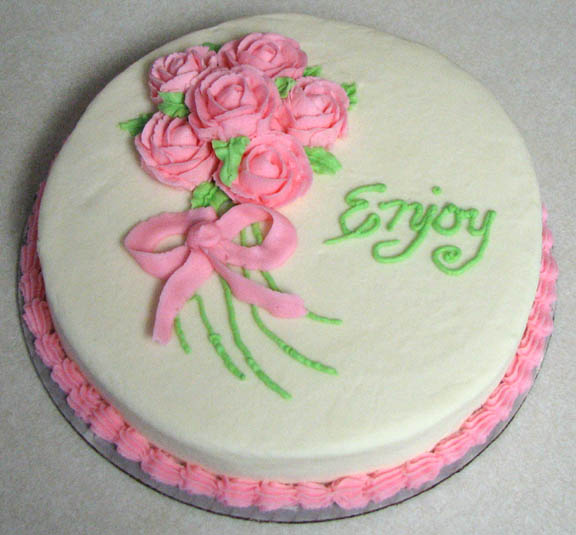 July 23, 2008
Wilton Class I, second night, yellow butter cake with buttercream icing
This was my second night of instruction, two weeks after the first one. Our instructions were to bring an iced cake and icing. I made two yellow butter cakes; I used the recipe I got from the baking class I took. It was very good but a tiny bit dry from being put in the fridge. I got the buttercream icing very smooth, to the amazement of my classmates, but I wound up smacking it during the decoration process in class. The cake looks rather wonky. I didn't take my time, and I was annoyed with my icing consistency. The clown bodies were very stiff icing, so hard I had trouble getting it out of the bag. Even that didn't prevent them from falling over on the way home. That's why they're so squashed. I just wanted to be done with the thing. We also practiced various shaped with the icing. Oh, and I gave the extra cake I made to the next-door neighbor. The little girls were all grins.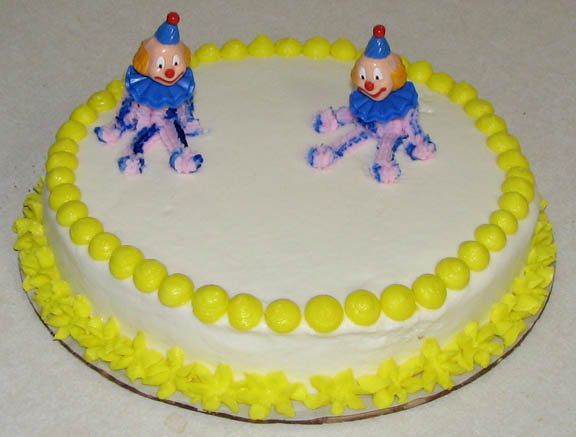 July 12, 2008
Cake baking class
I attended a one-day baking class on Saturday. The instruction make an example of each type of cake and let us sample them Yum! I tried to make the Tres Leche cake but failed. The top was soggy, and the bottom was tough. I wound up tossing it. I know there were a few things I did wrong, so I need to try it again.
July 10, 2008
Wilton Class I, first night, white cake with class buttercream icing
I attended my first session of Wilton Class 1 July 10. I enjoyed it, but I don't think I learned anything I didn't already know, other than a few tidbits here and there. But it's good to make sure you have all the gaps in your knowledge filled in. The next sessions should be more helpful.
In this session we learned how to tort a cake, fill it, and ice it. Icing is always difficult for me. I tear the cake no matter what I do, and there wasn't much time to ask for help. I did get a metal scraper that really helps with smoothing the cake. We iced our own 8-inch, single-layer cake. Mine didn't come out great, but it came out better than many people's. We didn't have time to let it crust and smooth it, like they taught us to do, but we winged it. Next we learned how to imprint an image (flowers) using a cookie cutter and trace the outline. Then we filled it in with stars and put in a center (mine are smooshed because of the box). We outlined stems and leaves and did a ruffle border. It was really tough squeezing out the icing. The bags had too much icing in them, and I was worried about it squirting out the top. I bought some bag ties, so that should help next time. You would think my hands would be strong with all the stitching, but they're not! We also traced some letters and shapes on a sheet. I was always the last one finished because I was trying to get everything to look perfect. After a while I gave up and just hurried along. Many of the cakes looked really bad. Mine turned out OK but not my best.
She told us to glue our cakes to the board with icing. I really think that makes the cake slip more, not less. The cake's pretty sticky on its own; adding icing gives it some grease. I know I centered my cake on the board before I iced. I think icing it pushed it around some.
For next time we need to bring our supplies (all provided last time) and an iced cake.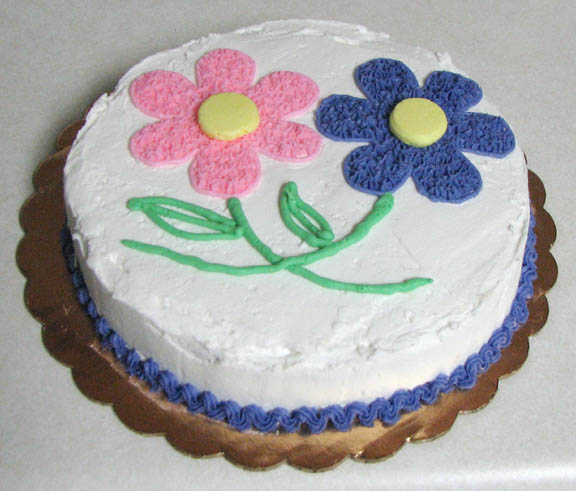 June 29, 2008
White cake with buttercream icing, covered in Wilton fondant
I made this cake for a 12-year-old's birthday. It was my first attempt at using fondant. I learned that the Wilton ready-made fondant does not taste good; I expected as much. I also learned not to leave the fondant out, even a little while. It dried out fast and cracked. It's also really hard to get the cake covered smoothly. I had wrinkles I couldn't get out. I also learned not to use oil to help even out patches, even though that's what people recommend. Some say to use vodka or vanilla extract. I may try that next time. I'm going to use marshmallow fondant from now on. It may not dry as hard, but it's easier to work with and tastes better. Oh, and those edible ink markers suck.
I would have liked to have gotten the cake nice and smooth and straight, with crisp corners, but that didn't happen.
Matt made the base for me. He's quite handy.
No more cakes until my Wilton Class 1--in two weeks!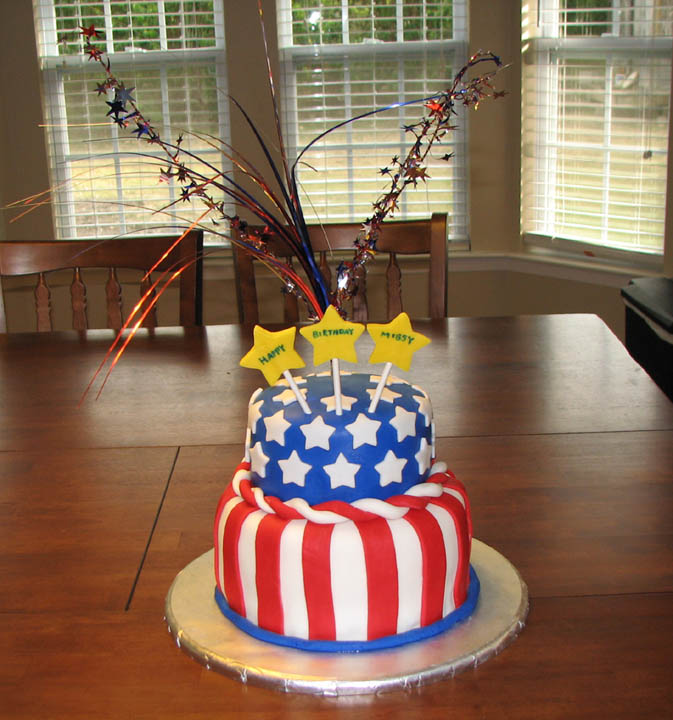 June 21, 2008
White cake with buttercream icing
I had another excuse to make a cake. My son's nanny had a birthday party for her son today. William is a year old, and his dad wanted dinosaurs as the theme. She had brought over a large plastic dinosaur, but it didn't work. I instead made my own!
The icing is buttercream icing tinted green. This morning I found it had separated from the cake in one area, so I had to do a quick repair job. That's why the back of the cake is a little slouchy. I really need to do a crumb coat on the cake the day I make it. I didn't do that this time because I had to throw away my first batch of buttercream icing. Do not try to use unsalted butter and add salt unless you're cooking it. I tried the icing, and it crunched. Ick.
The grass is class buttercream (no butter, just vegetable shortening); it doesn't taste all that good. The trees are royal icing and pretzel sticks. The lava is tinted piping gel, which doesn't taste too great. Everything else is marshmallow fondant (very yummy).
The nanny liked it a lot (as do I). I of course had to point out all the flaws to her. I'm anxious to hear what the dad thought of it.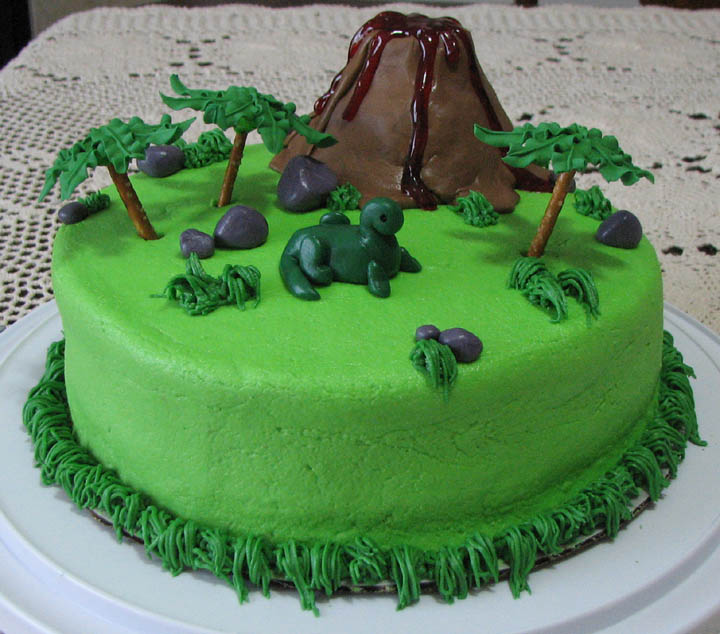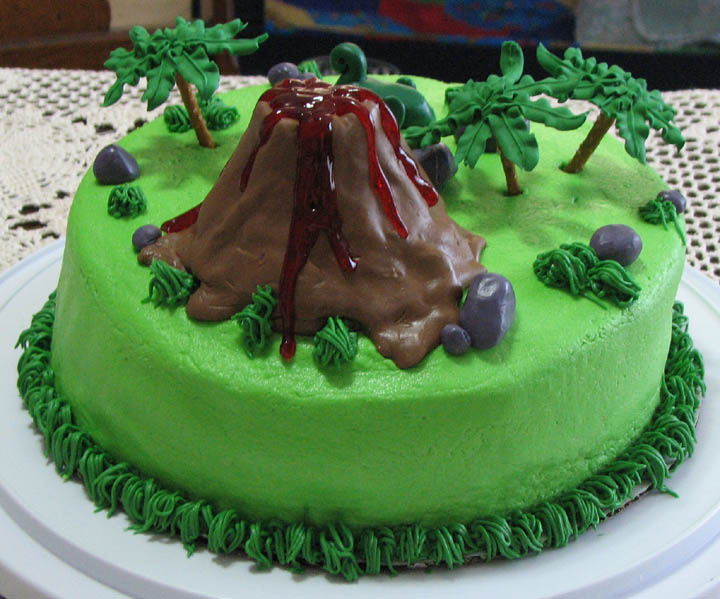 June 14, 2008
White cake with creamcheese icing
I made a cake for Matt for Father's Day. He requested a white cake with creamcheese icing. It turned out not to be a good combination. But they were each good separately! We also had some layer-sliding issues since I propped it on some soda boxes in the fridge.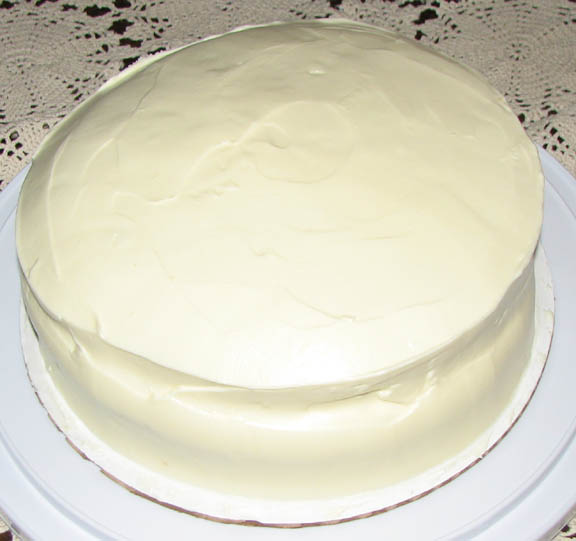 White cake
Cream cheese frosting
June 12, 2008
White cake with buttercream icing
This was another trial cake. I tried out a different white cake recipe, and oh my! This one is so good. I did a quick frosting job on it, so it doesn't look like much. It was very tasty!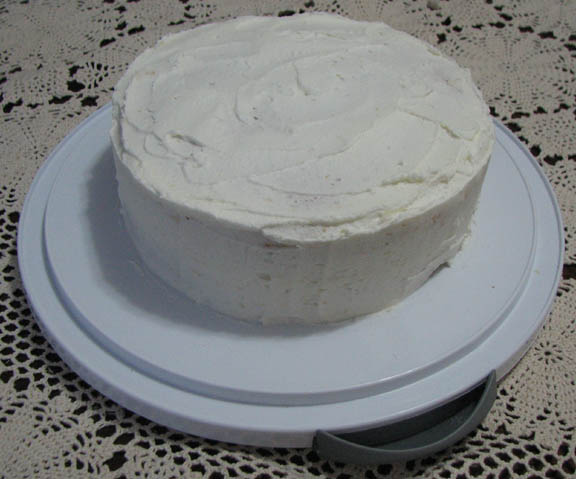 June 7, 2008
Portal cake
I made this cake for my husband and his friends. It's chocolate cake from a mix and chocolate frosting from a can. I put chocolate shavings on top, in addition to whipped cream dollops with cherries. This is supposed to look like the cake from the computer game Portal (and it's not a lie!).
What I discovered from this effort is that cake from a mix tastes better, but it's too light and fluffy to really decorate well. When I moved it, it started coming apart. I used my bake even strips for the first time and still had to level the cake. Oh, and all those shavings really made the cake too rich.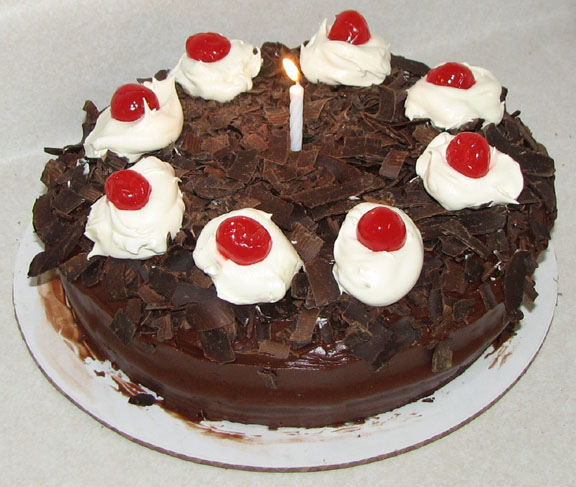 Box cake mix and frosting
June 1, 2008
Chocolate cake with chocolate filling and buttercream icing
This one was for a cousin's birthday, and it was the first cake I actually decorated. I used a shaped cake pan, but it was a lot more difficult than I thought it would be. I can spot a lot of flaws. The kids really liked it, though. One cousin said it was perfect. I pointed out the flaws, but she didn't believe me. lol. Hey, my piped shells are getting better!
The cake tasted good, but I think the chocolate filling should have been sweeter, maybe with sweetened chocolate in the recipe instead of unsweetened.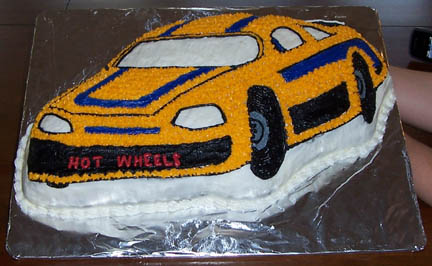 Chocolate cake
Chocolate filling
Italian cream cake with cream cheese icing
I made a second cake in case the first wasn't enough or the first didn't taste good. I knew this one was good. This time I used an icing recipe that was mostly just cream cheese, confectioners sugar, and vanilla. You could really taste the cream cheese. I didn't cut the nuts fine enough for the cake, which is something to remember for next time. I also need to remember to cook it in three cake pans, not two. As you can see, it went. I didn't get to take a picture before it was cut.
I did try to write on the cake, but that came out bad. I scraped it off and had to run to the store for more cream cheese. It took me all weekend to make these two cakes.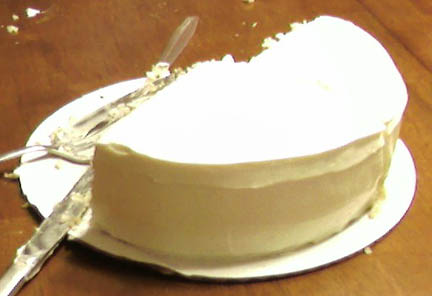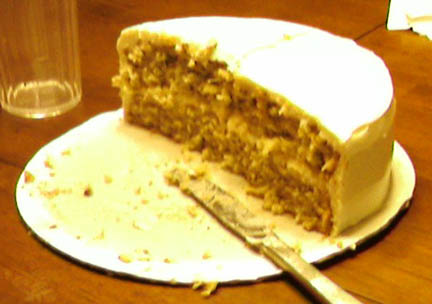 Italian cream cake
Cream cheese frosting
May 25, 2008
White Cake with Buttercream Icing
This is actually my third cake. My second was Friday night. I inadvertently set the oven to 450 instead of 350. Of course, the middle didn't cook, and the edges were burned. It got tossed. My cake Saturday turned out pretty good. I leveled it, put it together, and did a crumb coat. I let it dry overnight. I need to get some bake even strips so my cake will come out better. The cake itself was somewhat dry, but I don't know what to attribute that to.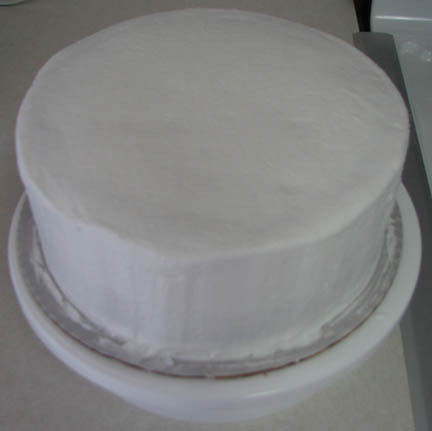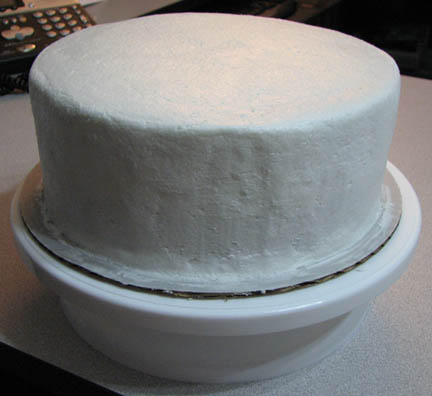 Above is the cake after I smoothed it as much as possible. I used the Viva paper towel method (you put the towel on the cake and smooth it with your hands or a flat edge). The icing didn't crust very much. After reading online, I found out that it could be from high humidity. We had been running the dishwasher a good bit. I also made the stiff frosting and thinned it, which might be the problem. I printed out the wrong recipe (the class buttercream for making decorations, not the one for frosting a cake).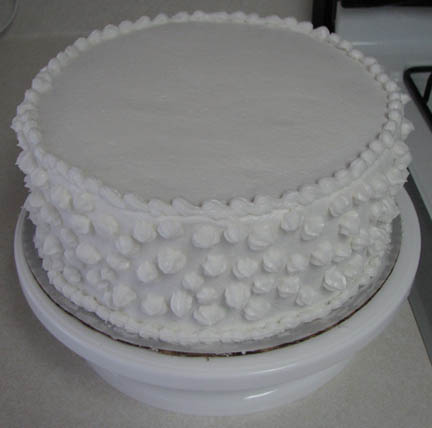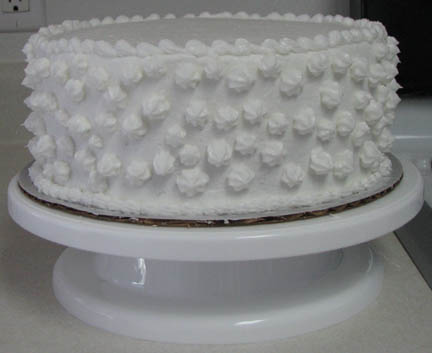 Here's my shoddy decorating attempt. My shell borders are completely uneven, but it was my first attempt. I dotted the cake to give it some interest, but I think the odd spacing makes it look strange. I also didn't put enough icing on the cake, even with two batches of the class buttercream.
Classic white cake
Buttercream Icing (class icing with no butter)
May 17, 2008
Italian Cream Cake with Crusting Cream Cheese Icing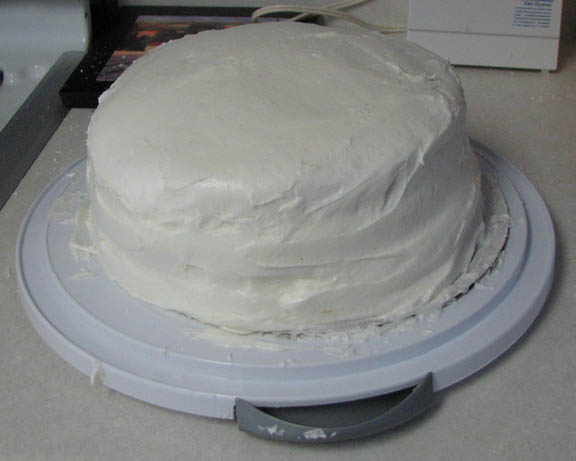 The frosting was supposed to crust, but I didn't make it firm enough. It squished out between the three layers, resulting in this lopsided cake. My husband said it tasted good. The cake itself was very moist.